Table of contents
1. Introduction
Previewww enables previewing web sites in a preview pane of Windows Explorer by selecting Internet shortcuts from Windows Explorer folder. Previewww loads only textual contents of a web page.
Internet shortcut is a Windows built-in file type which acts like a shortcut but instead of referring to local files it refers to web pages. Internet shortcut files may have extension .url or .website. The latter shortcuts are named Pinned Site Shortcuts.
Previewww itself does not render the web site preview; instead, it delegates to preinstalled previewer for HTML files.
2. Installation and removal
Administrative rights are required to perform installation and removal.
Automatic installation
Use the provided installer to install and remove the product.
Manual installation
Copy the product's file to desired location and register it with the regsvr32 utility:
regsvr32 previewww.dll
To uninstall the product, run regsvr32 with the -u option:
regsvr32 -u previewww.dll
then delete the file. You may need to logoff prior to deleting as the shell extension modules are usually locked by shell.
3. Previewing web sites
Make sure that Windows Explorer's preview pane is visible and click an Internet shortcut which refers to a web site that you wish to preview.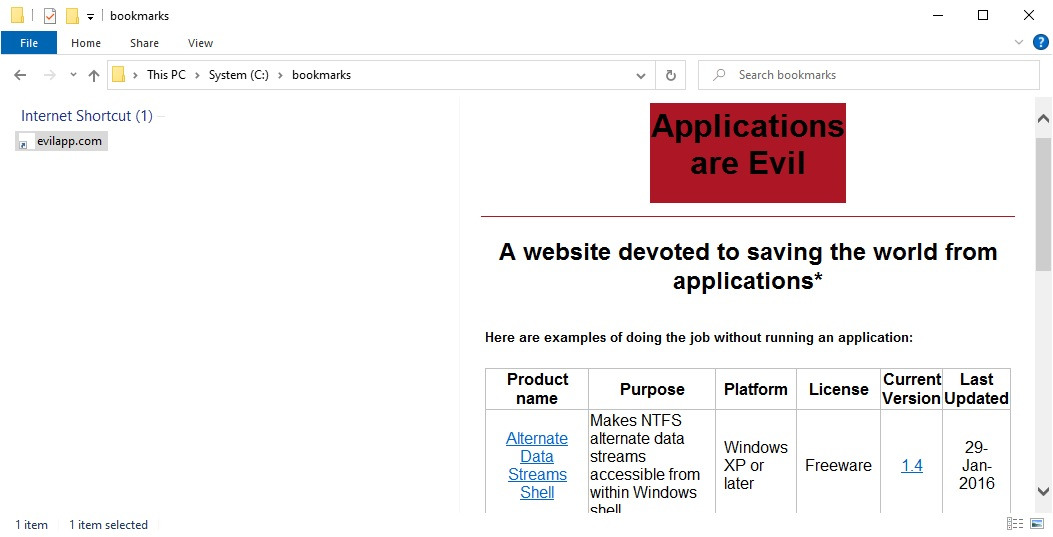 Pic. 1. evilapp.com displayed in preview pane of Windows Explorer.
4. Creating Internet shortcuts
To create Internet shortcut, do one of the following:
From Windows Explorer menu click
, type in desired URL (which should start with "http://" or "https://"), and complete the dialog.
Navigate to desired URL in a web browser, then drag the URL from the browser's address bar to a Windows Explorer folder.
Drag a link from web page opened in a web browser to a Windows Explorer folder.
5. Known issues
When clicking a link in preview pane the linked page should normally open in a web browser. This may fail, however, with the message about invalid link being displayed in the pane. To restore web page display deselect and select the shortcut or refresh the folder view by pressing <F5> or clicking
from Windows Explorer menu.
When dragging a link from preview pane Windows Explorer may hang and should be closed and restarted.
Previewing may occasionally stop working, displaying "File can't be previewed" in preview pane. To resolve, temporarily set Internet Explorer as default web browser and double-click any Internet shortcut to open it in Internet Explorer. Then you can restore a browser of your choice as the default one.
6. File shortcuts
As a side feature, Previewww supports previewing files referred to by the regular shortcuts (having extension .lnk). You can preview such a file by clicking its shortcut in Windows Explorer folder.
7. Getting further help
You can send questions and feedback by e-mail: support (at) evilapp (dot) com,
or via Twitter: https://twitter.com/evilapp.
Follow @evilapp to receive notifications about new product releases.
You can also subscribe to RSS feed.
8. Version history
version 1.1 released 16-Jul-2014
New
Implemented previewing files referred to by the regular shortcuts (having extension

.lnk

).
Added support for

.website

files.
version 1.0 released 18-Jul-2013
First release
9. Disclaimer
The software is provided "AS IS" without any warranty, either expressed or implied, including, but not limited to, the implied warranties of merchantability and fitness for a particular purpose. The author will not be liable for any special, incidental, consequential or indirect damages due to loss of data or any other reason.